1st graders (Frosh) will advance to our main Arts & Crafts and Nature programs at a level encouraging creativity and discovery.  Dance and cheerleading will be introduced and sports activities will be offered with instruction on a more challenging and interactive level at our age appropriate Jr. Sports complex (tennis, basketball, hockey) and fields. Swings, slides and other apparatus will now be offered at our main playgrounds.
2nd graders – (Soph) will be offered the flexibility to choose the activities they would like to play. Each period the Group leader will read from a list of choices and once decided campers will attend chosen activity with his/her counselors. They will be introduced to our Circus Arts Project (juggling, unicycling…) our Big Rockwall, the amazing 100 foot zip line and the introductory portion of our Ropes Challenge course.
First and second grade boys groups have both a male and a female counselor… both of whom will be nurturing and aware of your child's needs.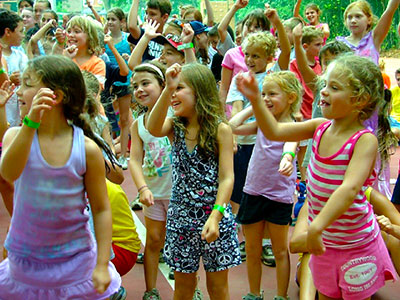 3rd and 4th graders – (Juniors) Our mountain biking trails and archery offer fun and excitement under the supervision of safety-conscious counselors and specialists. Inters will also participate in a minimum of 6 local off camp trips ie. the beach, Adventureland, Adventure/Trampoline Parks…