NEW: Overnight trips for our 7th, 8th, 9th and 10th graders
Air Conditioned Dining Hall and Bathrooms • Newly Paved Walkways • Paddleball Courts • Tennis Courts • Gymnastics and Dance Pavillions
SWIMMING – One of the best things about summer is swimming. We offer 2 swims daily in our four heated pools. One swim is a Red Cross Instructional event to teach the campers swimming techniques and water safety. The other is a free swim where the campers swim and enjoy water games under the watchful eyes of our qualified instructors. Towel service and sunscreen are provided by Kenwal Day Camp.
All Kenwal activities are taught by skilled instructors while counselors are being actively involved and supervising.
Batting Cages
Pitching Machines
GA GA
Tennis
Magic
Circus Arts
Karate
Water Park Activities
Video Arcade Game Room
Swim
Go-Karts
Basketball
Drama
2 Suspension Bridges
Street Hockey
8 Zip Lines
Soccer
Nature Program
Softball
Music
Arts & Crafts
Archery
Gymnastics
Mini-Golf
Low Ropes Course
Pool Slides
200′ Snowtube Slide
Rope Rappelling
Rock Climbing
Boating on Our 1/2 Acre Lake
Beach Volleyball
Mountain Biking
Lacrosse
Slip-n-Slides
Bungee Trampolines
Inflatable Rides
Dance
Cheerleading
Edible Art
Special Interest Clubs
Some Kenwal campers may have a particular interest in one or more specific activities and may wish to spend more time pursuing this interest. We offer special interest clubs to meet this very need. Plus, each group leader sets up the club hours so as not to interfere with any of the major Kenwal Day Camp activities. Some of our clubs are: drama, gymnastics, tennis, computer, archery and swimming.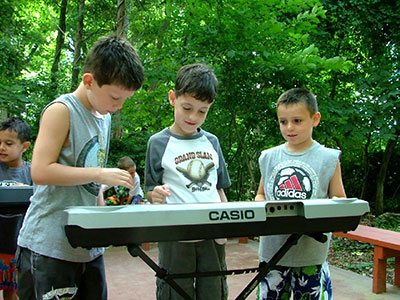 Special Events
At Kenwal Day Camp we try to make every day a special day for everyone. Sometimes we go a little further and we create a day for our campers that is more than having fun, playing games, discovering and exploring. We actually create those special summer memories that your camper and you will share in and cherish forever. Some of those magic moments have happened when a camper shook hands with a pro baseball player, made a new friend, saw a bird hatch from an egg, or just realized that he did fit in and people do like him.
In addition to all the outstanding fun and exciting activities offered at Camp Kenwal, each of our divisions has their own set of "Special Event" activities for their individual groups which include, but are not limited to: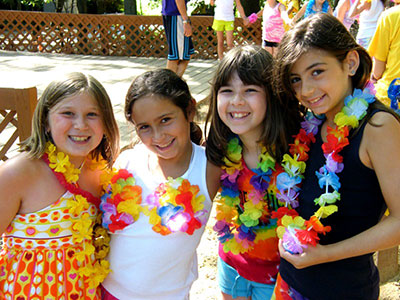 Crazy Hat Day
Crazy T-shirt Day
Crazy Hair Day
60's 70's and 80's Dress Up Days
Pajama Day
Breakfasts
Ice Cream Parties
Color War
Dress Like Your Team or Theme
Color Sing Downs
Inside Out Day
Hawaiian Day
Swim Meets
Crazy Sock Day
Role Reversal Day
Apache Relay
Cheer Day
Talent Shows
Hundreds of Daily Website Pictures
Drama Performances
Kenwal Karnival
Surprise Trips for 3rd Graders and Up
Scavenger Hunts
Live Bands/Pop Music
Halloween in Summer
Pinatas
Creative Couture
Decorate Your Own Cupcake
Your child's Group Leader will let their campers and parents know when these "Special Event" activities are scheduled in their weekly Newsletter.
Our campers are also entertained with an array of special guest visitors and shows throughout the summer. Including but not limited to:
Jeff the Magician
Chip the Mime Guy
Little Kids Day
Bounce, OOOLaLa and Daniel
Kinderbeat
Plaza Productions
Game Shows
Petland Pet Show
Come see us in action
Book a Tour